​ COMMUNITY | CULTURE | PATHWAYS​
COMMUNITY SPORT FOR ALL AGES
Geelong West Giants play football and netball - for juniors and seniors.
We create connections throughout the Club and its Community through volunteers, players, supporters and sponsors.
HONOUR BOARD
Volunteers | Players | Administrators
They all bring the club to life!
Check out our honour board of achievements over recent years and our Club's life members
WELLBEING
Please make use of our Wellbeing Resources, including support to help cope with the COVID-19 pandemic
March 14, 2021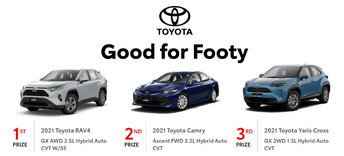 Geelong West Giants is playing its part in this fantastic raffle.Main prizes are three Toyota cars. Who couldn't do with a new set of wheels?100% of ticket proceeds come back to the club. This year the funds raised will help pay for the expanded physiotherapy program being run across t...
read more
OUR GIANT SPONSORS
thank you to all our wonderful sponsors